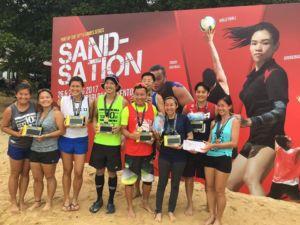 Team STU came in Champion and 1st Runner-Up for Beach Netball at Sand-Sation (27 August 2017)
U Games is in its 10th edition this year! Organised by NTUC Club, U Games is the ultimate sporting competition that brings together the unions, corporate companies, youth and public through a series of sports events.
For 2016/2017, the Singapore Teachers' Union emerged ranked 2nd Runner-Up in the overall scoring among 58 other unions. The titles of the U Games 16/17 Sportsman and Sportswoman of the Year were also clinched by Ms Lim Sze Hui, Sylvia (Admiralty Secondary School) and Mr Goh Buan Huan, Jason (Yangzheng Primary School), two outstanding STU members. This was the first time both titles went to members of the same union!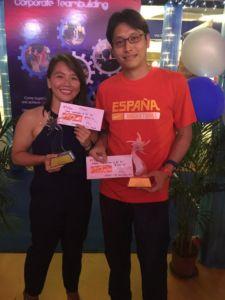 U Games 16/17 Sportswoman and Sportsman of the Year: Ms Lim Sze Hui, Sylvia and Mr Goh Buan Huan, Jason received their awards from NTUC Deputy Secretary-General Heng Chee How at U Sports Awards Night 2017
---
Are you an avid sports enthusiast? Represent STU and compete against sportsman and sportswoman from 58 other unions in the 2017/18 U Games! To be kept updated, or to register to represent STU in any of the U Games categories, please email your name, NRIC, school and mobile number to kayathri@stu.org.sg