This article aims to share with readers the experiences of the lower secondary History teachers in Bedok South Secondary School in our Historical Investigation (HI) journey. Likening the experience to embarking on long-distance travel, the teachers began with the end in mind – the desired outcomes of History Education in Singapore. Our choice vehicle for this journey is the inquiry-based approach.
Setting Off – Why History?
The study of history provides people with a way to connect with and understand our past, so that we can make sound decisions to guide our future. History hence values mindfulness in the present and a considered regard for the future. Yet, for our youth today, it seems that their world is geared towards the "fast" and the "now"- with instant communication, "fake news" and information overload all within the easy reach of their smart phones and a tap of their fingers. This has made history education even more urgent and relevant than before.
The teaching of Singapore History at the lower secondary level is a most opportune milestone in the lives of our youth. They learn to navigate the rich, complex history of our nation, make connections between the past and present and become sensitive and discerning towards the sources of information that comes through their hands.
Destination – Beginning with the End in Mind
In crafting the lower secondary programme, the teachers in Bedok South Secondary School were guided by the four desired outcomes of History education in Singapore. Our program endeavours to develop our students to become youth that exhibit the following qualities:
A confident person
– Is discerning in judgement, thinks independently and critically, and communicates effectively.
A self-directed learner
– Takes responsibility for his own learning, who questions, reflects and perseveres in the pursuit of learning.
An active contributor
– Able to work effectively in teams, exercises initiative, takes calculated risks, is innovative and strives for excellence.
A concerned citizen
– Rooted in Singapore, has a strong civic consciousness, is informed.
With the desired outcomes of History education serving as our GPS (Global Positioning System) while we navigated through the complexities of history teaching using the inquiry-based approach, we embarked on our journey in planning and equipping our "vehicle" with the right tools.
The Choice Tools
Historical Inquiry (HI) was the recommended choice pedagogy with the launch of the new lower secondary history syllabus in 2014. Aligning ourselves with this direction, the team decided to adopt the chapter on the Japanese Occupation as our inquiry topic.
Students were tasked to discover responses to the inquiry question: "What was life like during the Japanese Occupation?"
In designing our HI project, we were passionate about incorporating multi-sensory, authentic experiences and alternative assessment modes which would allow our students to develop historical empathy and a deep understanding of the discipline. Hence, we based the design of our HI on four chief approaches:
Tool #1 − Interaction with primary and secondary sources
One of the most important stages of the historical inquiry process is the gathering of historical evidence in order to make relevant inferences to address the inquiry question. The interaction with historical sources is essential for a fulfilling learning experience and enable students to relate to the wartime experiences.
Working in groups, students were tasked to investigate different aspects of life under the Japanese. Some common aspects which students sought to uncover include culture, education, family and economy.
Students were presented with a rich repository of historical sources curated from oral transcripts, historical texts and photographs. Besides primary sources, students are also tasked to explore and researched on secondary sources to gather more information to further deepen their understanding of what happened during the Japanese Occupation. This also gives students the opportunity to hone their Source-Based skills as they assess the reliability and relevance of the sources they have gathered before formulating conclusions towards the HI question.
Tool #2 − Learning Journey (LJ) to the National Museum Singapore (NMS)
With historical teaching and learning increasingly geared towards authentic understanding of a historian's work, a HI lesson without a learning journey would be remiss. Museums are living examples of history – housing artefacts that embed the many stories of the past, and at the same time, through the delicate art of curation, epitomise and showcase the meaning of historiography.
As such, the objectives of a learning journey to the NMS are multi-pronged. It serves as a living example of how history is curated and constructed into a narrative – serving as a model for the storybook students have to produce as the project's end-product. Concurrently, it serves as a rich archive of both primary and secondary sources that students can access, choose from and use. Moreover, the multi-sensory experience provided by the NMS allows students to realise that the learning of history is really more than just book learning. – that history is real.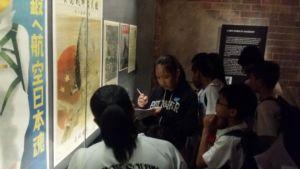 Above: Students interacting with different artefacts at the National Museum
Tool #3 − Simulated Sook Ching Mass Grave examination
To enhance engagement and historical empathy in the HI process, we conceived the concept of simulating a historically significant event for our students. We selected the 'Sook Ching' operation – a deliberate "cleansing" process of anti-Japanese elements targeted specifically at the Chinese population of Singapore. Our team took on the challenge of re-creating the site of a mass grave to illustrate the after-math of 'Sook Ching'. The "skeletons" of the victims of 'Sook Ching' were planted in the simulated mass grave site in school, along with artefacts like identification cards, diaries and letters.
Teachers used the skeletons and artefacts to construct the identities of a Chinese educated men and a child. Some had identification cards that identified them as "kuomintang" members who were fighting against the Japanese in China. The child skeleton was planted to challenge the often-held notion that Sook Ching only targeted Chinese men when in fact, remains of children and women were also uncovered in mass graves around Singapore.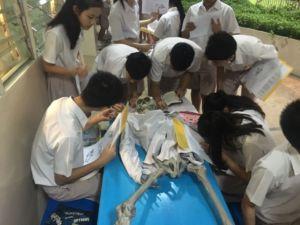 Above: Students examining the "remains" of a Sook Ching victim.
Tool #4 − an Authentic Transfer Task
As evidence of student learning and a means to check for understanding, students were tasked to work in groups to create two end-products:
A historical fiction for seven to nine year old children; and
An oral presentation detailing their HI journey and reflections.
Through these two deliverables, we were able to encapsulate students' learning, thinking processes and develop them according to our desired outcomes of History education.
Product #1 − Historical Fiction
The end product of the HI lesson was to create a historical fiction catering to children 7-9 years old. The key motivation was to ride on the strengths of our students who are largely visual and kinaesthetic learners, giving them a platform to showcase their historical knowledge.
Students were introduced to ideas and ways to write a good story. They were first encouraged to individually think of potential story plots to interest their readers. Subsequently they came together as a group to pitch their ideas to one another and brainstorm further. Each group then work on drafting a story board before creating the story book as an integral part of consolidating their learning in relation to the HI question and combining it with their creativity of story writing for young readers.
To ensure fair assessment of students' abilities and contribution towards the final product (i.e. the story book), we have formulated a set of assessment rubrics as follows:
Linking story that addresses the HI question
Using historically accurate and researched facts to support the story
Incorporating primary and secondary sources and findings through research, simulated mass grave site and the National Museum learning journey
Organisation and flow of the story
This helps us to assess and achieve the second to fourth desired outcomes of History education.
Product #2 − Oral Presentation
In line with the inquiry-style approach of learning history, the 'final' step is reflection. Tying this in with our desired outcome of cultivating confident persons, the team decided that students will share their reflections in a presentation to the class. More than that, it is really the common agreement that our students need more opportunities and exposure at a younger age to share, present and communicate their thoughts to an audience so as to equip them with important life and soft skills, such as presentation skills and the confidence to engage a group of people.
To ensure fair assessment, the rubrics comprises of an individual and group component. On the individual level, it is expressly stated that students will be graded on their fluency and clarity, as well as audience engagement. This is to provide students with the starting point of the expectations and habits of a good presenter. On the group level, students are then graded on their reflection and organisation of slides. Here, the emphasis is on students' ability to work collaboratively to come up with a coherent and well-explained presentation. Thus, students are encouraged to learn to integrate and synthesise their ideas and differences.
Insights from the End Products
Students did not disappoint with the quality of the end products. Evidences of learning gleaned from their LJ to the National Museum Singapore, primary and secondary sources and simulated 'Sook Ching' examination were put on display as students narrated their stories in the historical fiction. Students made connections to the present when they wrote stories of protagonists who return from their school's Total Defence Commemorations and inquired their grandparents about their experiences during Japanese Occupation. Other's narrated their stories from a first person account, detailing the suffering they underwent during the Sook Ching operation as businessmen whose businesses suffered when the Japanese invaded and introduced banana notes. Many infused the Japanese lottery tickets and propaganda posters from the museum into their storyline. The artefacts were varied yet all well-aligned to their interpretation and answer of the inquiry question.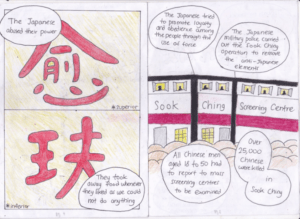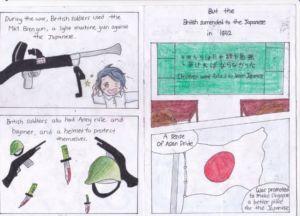 Above: Sample of student's work
The results of the presentations were mixed. As expected, many students were daunted by having to speak in front of an audience, and were meek and soft during their presentation. However, with prompting and encouragement from both their classmates and the teacher, some were able to raise their volume to an acceptable level. At the same time, there were a fair number of promising and commendable students, who made a conscious effort to maintain eye contact with the audience, going as far as memorising their scripts.
Finally, in terms of the content of their reflection, the segment proved to be most enlightening as students shared candid responses with their teachers and peers. It allowed teachers to observe common challenges across groups such as communication and time management. When asked what was one thing they would change if given a chance to start over again, the often-cited change was the manner which they communicated. Some groups looked back and opined that they would cherish the time teachers set aside for class discussions while leaders reflected that they would have given clear instructions to group members. The learning journey to the National Museum Singapore was top on the list of their favourite HI journey as this was almost unanimously cited as the part that they enjoyed the most in reference to question 4 (refer above).
When asked "Why not the Sook Ching mass grave examination?" The students cheerfully answered "Cher, it was scary!"
Epilogue
In conclusion, the inquiry-style approach towards teaching history has proven to be enriching for students. Students were able to identify and select relevant evidences to support their construct of the historical fiction. They exercised reasoning and made valid connections between the experiences of the Japanese Occupation with moral lessons that they learnt and carry forward to the present. Just as important, this platform allows our students the opportunity to become active contributors as they work in groups, learn to problem solve, manage emotions. Undoubtedly, this endeavour is time-consuming and requires work on the teachers' part to plan and execute. However, the promise of experiential and self-directed learning has proven thus far that students remember and enjoy the learning, making this a worthwhile journey altogether.
It is the teachers' sincere hope that this will give our students their own hard-earned licence to drive themselves into the future.
---
Joan Yang, Lok Junli and Webster Lim are teachers from Bedok South Secondary School.